Send Inquiry
Rotary Gear Pump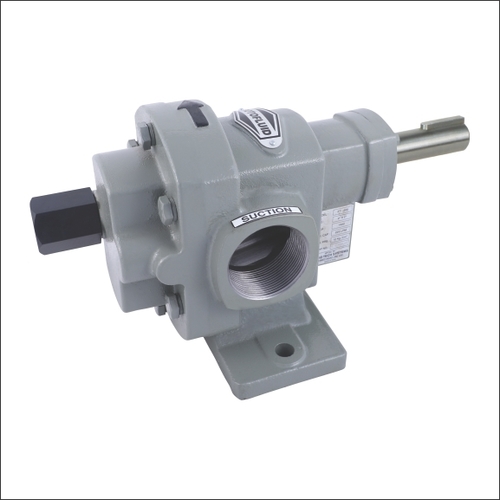 Rotary Gear Pump
The
Rotary Gear Pump
is a self priming, foot mounting positive displacement rotary gear pump. They have simple two pieces cast iron construction. Apart from this, they are single helical with modified profile carton steel gear shrink fitted on alloy steel that has hardened and grind finished shaft. The gear firmly supported 4 nos. of self lubricated sintered bronze bush bearing ensuring smooth running. These pumps can be run in either direction with change in inlet outlet port position. The relief valve operations can be reversed.
The Rotary Gear Pump suction and delivery connections are available in 1/4" to 3" sizes. They can be operated up to pressure of 10 kg/cm² with 5 LPM to 500 LPM flow capacity. Further these pumps are designed to run at 1440 RPM up to viscosity of 50,000 to 1,00,000 SSU. The maximum temperature can be up to 200
o
C.
Features :
Simple and Efficient design.
Single helical gear design.
Lower noise with wide capacity range.
Easy to maintain & higher efficiency.
Application :
Refineries & mineral Oils.
Printing inks, dyes and resins.
Glycerin and Glycol.
Fuel oil, diesel oil, furnace oil, etc.